Bathrooms to Love, from PJH, has revealed one of the new furniture families to be featured in its latest collection, the wall-hung "Contrast" range.
Exclusive to Bathrooms to Love, Contrast is a premium modular furniture family boasting a unique new look through the sophisticated blend of contrasting materials and finishes.
Taking centre stage on the front cover of the new Bathrooms to Love brochure, Contrast consists of two striking wall-hung furniture options with a handleless design. The first stylishly combines a Matt Black-effect fascia with a black glass door and drawer insert, and the second features a Matt Cotton finish with an oak woodgrain-effect door and drawer insert. The designs go on to offer a seamless look with the option of either a coordinated coloured resin basin (Matt Black or Matt Cotton), or a clean white ceramic inset basin.
"The beautiful mix of contrasting materials and finishes seen in our new Contrast range, give rise to some quite unique looks for the mid-market sector – perfect for ultra-modern bathroom spaces," said Julie Lockwood, Bathrooms to Love. "With furniture product development evolving at such a fast pace, we need to ensure our customers are ahead of trends and able to offer the end-customer a continuous supply of fresh new designs."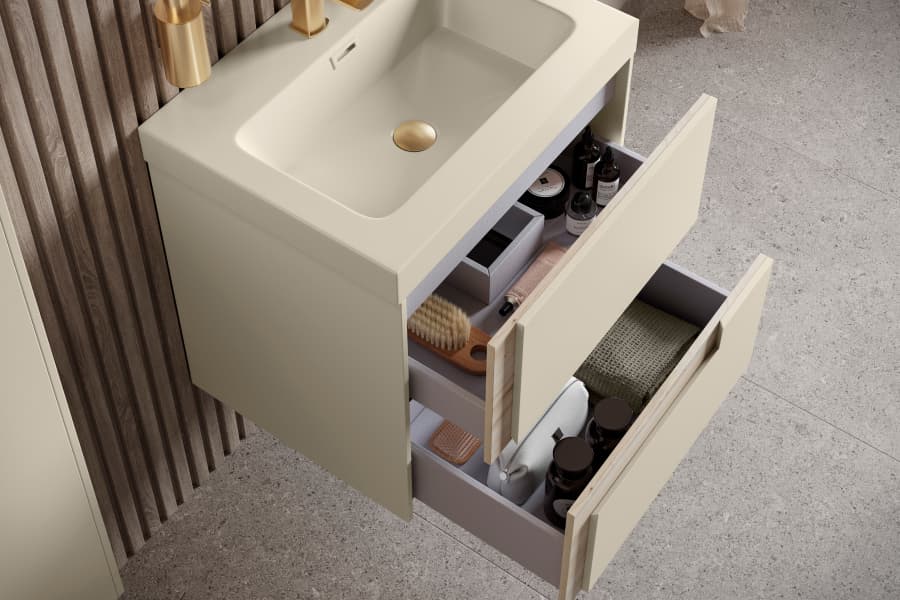 For more information on any other beautiful bathrooms to love inspirations, please visit bathrooms to love site.